Huge news, breaking: my list of favorite head coaches to grace the sidelines of the SEC has arrived. I chose a specific timeframe (since 2000) because that's modern (lol) and that's about the time I have fully-formed opinions and more importantly, memories of these coaches. These are my favorites coaches, and everyone was a candidate.
I had 76 coaches to rank. That's a lot. I narrowed it down, as you will see, very reasonably. First I removed four coaches because they were exclusively in the BIG 12 in 2000 and/or never made the SEC transition. Then I took away seven more because they were repeats. As it turns out, an awful lot of coaches have gone multiple stints inside this hallowed conference. Next I took out eight more coaches because they were interim coaches, and that hurt because a couple are winners. Finally, four more were discarded because they are just brand new dudes on the scene and I ain't go no opinion on them folks yet. Now, lets go:
First a few honorable mentions: John L. Smith (Arkansas). Dude told us to smile or he wouldn't talk to us. Legend. Also Joe Kines (Alabama) gets love because he had one job to do in the 2006 Independence Bowl against Oklahoma State, "stop that inside trap". One more we add to the honorees is Kevin Steele (Auburn) because he essentially tried to overthrow the Auburn government and that takes stones.
1. Lane Kiffin (Tennessee, Ole Miss)
It's easy to see why the Lane Train is a fascinating figure. He coaches a phenomenally watchable brand of offense, he's quick on the podium pregame and postgame, he's an engaging follow on Twitter and when he went to Tuscaloosa to "rehab" his coaching life, he let the lessons of a tight organization soak in and emerged better for it. Lane tops my list because he is all of us.
2. Ed Orgeron (Ole Miss, LSU)
Coach O won my heart for the quote in the above gif. He's also a huge winner in my books for his exclamations after beating Alabama two years ago. Need a refresher: "We gonna beat their ass in recruiting We gonna beat their ass every time they see us. ROLL TIDE WHAT... F**K YOU". He stared at the monster in the conference, pounded them and then taunted (in the locker room). It's an attitude that fits him, his style of coaching, his personality and he is unabashedly himself. Truly unique and someone that I need in college football forever.
3. Mark Richt (Georgia)
Mark Richt is on my list for ONE GIANT REASON, a quote you are about to read again for the first time in nearly a decade. First, his personality is "swell fella" territory and he was incredibly successful with that demeanor. He won a lot of games despite not winning the biggest one (it's hard). Now, the quote. He was asked about playing FCS teams and whether the SEC should consider putting only the big boys on the schedule. His answer: "I really think that for the health of college football at all levels across America, if we stop doing that we're going to hurt college football, and we're going to hurt a lot of people and hurt the game of football in general, not just college football. I feel real strong about that one."
4. Nick Saban (LSU, Alabama)
The elephant in the room has commanded so much attention because of his on-field successes (which have been plentiful) but he has been brutally honest with the media that has led to more than a few awkward moments (thoroughly enjoyable) AND incredibly insightful and prescient with his thoughts on the current states of the sport and the future of the same. I've been critical of a lot of his actions and statements, but that's all personal choice. He isn't just a coach, he's the most audible and crucial voice of the sport and he's usually spot-on.
5. Steve Spurrier (Florida, South Carolina)
Steve Spurrier is a bully and a scamp. He's smart and figured out that offense was a good thing and revolutionized the SEC. He also took that intellect to needle everyone openly that he could. He loved (still does) poking the Volunteers and it's perfectly acceptable to be that petty. Too many people think you need to win and win with "class". Class is whatever you decide it is and the "class" Spurrier chose was Nelson from the Simpsons.
6. Mark Stoops (Kentucky)
Mark Stoops is on this list because he is doing the impossible: he is consistently winning with a style of football that Kentucky hasn't been able to win with in the SEC for a long, long time. He went to Lexington and started building the his team the way you always want it built, from inside-out. He finally received some of the love he deserved when his Wildcats won 10-games and beat Penn State in a New Year's Day bowl game and doing it all with NO QUARTERBCK. People think Kentucky is a good team and that's all Mark Stoops.
7. Houston Nutt (Arkansas, Ole Miss)
Can I tell you what I love about Houston Nutt? EVERYTHING. The guy is good ol' boy to the core, southern born and bred and excitable. He's an entertaining listen, pretty darn smart and always atop of the Twitter when the SEC needs a new coach. Jokes aside, the had Arkansas consistently relevant and almost always watchable. Just before the era of mercenary coaches, you got Arkansas boys coaching Arkansas.
8. Mike Price (Alabama)
Isn't it obvious? Mike Price, an out-of-the-box hire from Washington State to replace the quick-to-leave Francionne flew from Tuscaloosa to Pensacola for a charity pro-am golf tournament but BEFORE swinging sticks, he swung something else at a couple local dancing establishments. In fact, at one of them he propositioned a couple ladies into some "pretty aggressive sex" and gave the quote that may encapsulate college football in the SEC better than anything God has ever given us. From Sports Illustrated, "We started screaming 'Roll Tide!' and he was yelling back, 'It's rolling baby, it's rolling'."
9. Gus Malzahn (Auburn)
Gus did some things. His beginning was a white-hot star. The offense was fresh, new, interesting and very fast. He took the conference by storm but shortly after, we found out the peaks-and-valleys results Auburn would enjoy and that's why he is on this list. The peaks weren't just rings, they were generation-defining games. Auburn's run of miracles in 2013 vs Georgia and Alabama AND the infamous Iron Bowl-ending penalty against Alabama in 2019 were insane peaks of Gus (and Auburn Jesus) and it all added to the aura of the Gus Bus.
10. Phillip Fulmer (Tennessee)
Speaking of good ol' boys, welcome to the chat Phil Fulmer. He probably should be higher on this list because of everything he was involved with, including the first of the SEC dominance in the post-voter title years. He's a favorite of mine because of one series of moments. In 2004 he decided not to go to SEC Media Days in Birmingham because, well he didn't want to go to court. So instead, there is a famous photo of a phone being interviewed there with Fulmer on it. He stayed in Knoxville because he likely going to get served a subpoena in a defamation lawsuit against former Alabama boosters he may have tattled on to the NCAA and for which Alabama was sanctioned. Fast forward to 2008, he shows up and is slammed with a DIFFERENT subpoena stemming from the same Alabama sanctions. LOVE THIS CONFERENCE.
11. Les Miles (LSU)
I will be brief with Les because of the most recent allegations and revelations. It's hard for me to completely ignore how bizarre this guy was, but was engaging and entertaining even if he did like to taste a little grass in Tiger Stadium. He was a favorite for a long time. Recent news has changed things but he's not erased from existence here.
12. Jimbo Fisher (Texas A&M)
First... Jimbo? You can't have a more SEC name than Jimbo. Impossible. It's not improbably, it's impossible. I love trying to decipher his press conferences as he tries to speak faster than the Micro Machines fella.
13. Bret Bielema (Arkansas)
Bret Bielema loved his offensive line, tried to center his offense around them and huge change post-Bobby Petrino, and I loved him for the idea. He also said beating Texas in the 2014 Texas Bowl was "borderline erotic" and squeezing that phrase into a football conversation is worthy of all of our praise.
14. Derek Dooley (Tennessee)
Derek Dooley may not have won as much as Tennessee fans would have wanted, but from an entertainment standpoint... dude had it. He compared his team to the Germans in WW2 and TAUGHT HIS TEAM HOW TO BATHE. The guy also coached on a stool because of a broken leg. Love this man.
15. Hal Mumme (Kentucky)
I don't know if there are ANY other coaches more married to a style of play or offensive system thank Kentucky's Hal Mumme. The Air Raid for the Wildcats made them a TV viewing treat. He took a two-minute offense approach and extended it to the entire game. He also gave us Jared Lorenzen. Both big wins for us.
16. Hugh Freeze (Ole Miss)
Houston Nutt may be the Right Reverend, but Hugh Freeze was the preacher character our show needed. The accent, the spirit and the offense baby! Ole Miss turned the college football world on it's ear in 2014 and it was REFRESHING! Never forget it was Freeze's Ole Miss that was in the first ever College Football Playoff rankings. OLE MISS! He got in trouble for things I don't care about in 2021, or before then, but Hugh delivered.
17. Sylvester Croom (Mississippi State)
The first black head coach in the SEC is amongst my favorite because of his opportunity and the most memorable successes. He was a finalist, most thought, for the Alabama job that went to Mike Shula. Croom would later suggest race had more of an issue in the hiring of Shula over him than he would have like. His team's weren't very good but in 2006 he won just three games, one in-conference and it was against the team he played for (Alabama) and in 2007, he went back-to-back against his Tide in Saban's first season.
18. Will Muschamp (Florida, South Carolina)
Will Muschamp is a maniac on the field but his passion, er, bloodlust for the game and having things go correctly is infectious. You want tp punch whiteboards with the guy because you probably have at some point in your fandom. He's not the stoic type and that's okay. Sometimes you gotta rage.
19. Gene Chizik (Auburn)
The National Title, the nabbing of Cam Newton, the leather jacket. These are the Holy Trinity of Gene Chizik's time at Auburn. People screamed 5-19 (his record at Iowa State from where he was hired) once he got off the plane and then showed them by winning big. Also had the worst season in Auburn history too BUT you cannot remove that jacket, I mean ring. People talk about the peaks and valleys of Gus, but Chizik straight up went 14-0 to 0-8 in SEC play in TWO years. Wild.
20. Derek Mason (Vanderbilt)
Derek Mason deserved better than Vanderbilt but he gave Vanderbilt his all. His energy and passion was seen throughout the team even though they could not put it all together all of the time. He got them to a couple of bowls but more importantly he made a vest cool and he got attention for his winless team by recruiting a female soccer player to kick for them in games later last season. He didn't have to do that but he shined some light on her, the team and even equality.
21. Eli Drinkwitz (Missouri)
This man is a fast-riser on my like board. I really have no idea if he will be a good coach even short-term but when he called out Dan Mullen at SEC Media Days last week, he skyrocketed. If you missed it, Drink said he will be "praying for snow" for their November 20 battle in Mizzou and added "Dan is going to complain about everything anyway".
22. Mike DuBose (Alabama)
I am old enough to remember when Mike DuBose was the last great Alabama coach to win the SEC. His tenure was brief and he win the SEC in 1999 on the tree trunks of Shaun Alexander and then had the Tide preseason #3 for 2000, but you know the rest. I love him because he just wanted to coach. In fact, if you're willing to driving the two hours and change northeast from Mobile, he'll be on the sidelines for the 3A Opp Bobcats this season.
23. Jackie Sherrill (Mississippi State)
I feel like every image of Jackie Sherrill I have in my head is one of him in the pose of the picture above. Consistently mediocre is a fair term for Sherrill's time at State. We won't see that type of extended bleh ever again. Thirteen seasons and only once did he win more than eight games but he does have that 1998 SEC Championship Game appearance. Why is he so high? Joe Lee Dunn. His defensive coordinator for six seasons had some of the wildest, unnecessary defensive alignments I had ever seen. They became a headache for some, but usually lost but not for being dull.
24. Dennis Franchione (Alabama)
Frenchy replaced Mike DuBose (remember him) and made that team a winner. Back-to-back bowls plus an SEC West title. However, that 2002 team was not allowed play in the SEC Championship game because of DuBose. The NCAA had levied some sanctions against Alabama and using that knowledge plus the retiring of R.C. Slocum at Texas A&M he saw an out. So after being offered a 10-year deal at Alabama he flew to interview for the Aggie gig and then NEVER CAME BACK. He literally took the job and stayed and told the Alabama players via video conference. He's #24 because of that move, the dickishness of it and the great "what-if".
25. James Franklin (Vanderbilt)
No one brings ice cream trucks to practice like James Franklin. In fact, he may have been the only one. It's undeniable that he brought Vanderbilt into the football discussion past mid-October. They haven't been back, outside of an equality conversation concerning a female kicker, since.
26. Jeremy Pruitt (Tennessee)
Look at this photo. LOOK AT IT. I don't need anything else in this description. I will add it is hilarious that he revealed when he was defensive coordinator, through an odd dinner-time video, that he didn't know what asparagus was.
27. Charlie Strong (Florida)
I like him. Honestly, not 100% why. He's done nothing super special, nothing very bad, nothing memorable but I smile when I think of him at Florida.
28. Sam Pittman (Arkansas)
Offensive line coaches getting the big gig are always big in my book. ALWAYS. And the guy wants to be there. He's grateful. AND HE'S GOT A CATCHPHRASE: YESSSSSSSSSSSIIIRRRRRR!
29. Lou Holtz (South Carolina)
Let's just leave Lou alone here.
30. Jim McElwain (Florida)
Jim McElwain gave us a summer of a shark photo, that wasn't even him or maybe it was. This is how I measure my appreciation for that.
31. Mike Leach (Mississippi State)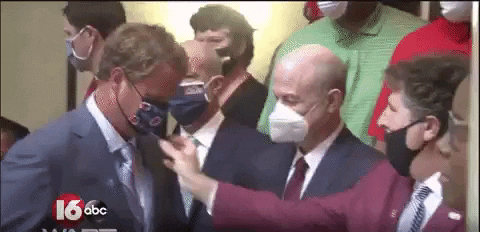 The most hyped speaker to come into the SEC in a long time has given his opinion on a lot so far but his personality is enjoyable. It's weird, quirky, faux-enlightened and sometimes actually enlightened. He's interested in stuff coaches aren't normally into. He thinks differently and also is an advocate for a 64-team playoff which is closer than we think.
32. Bobby Petrino (Arkansas)
It's the motorcycle story. Hands down. Zero option of anything else because he's a prick. I didn't really care about him getting his comeuppance but I do thank him for the VERY public nature of this scandal, and this photo. My God, this photo.
33. Butch Jones (Tennessee)
Brick-by-brick. Five-Star Hearts. Football in a NASCAR track. Butch Jones gave us a lot to think about.
34. Gary Pinkel (Missouri)
Very few "memories" of Pinkel being an SEC coach but I'll always imagine him as the man who led the team during 2015, a time of some racial strife on Mizzou's campus that triggered some players to protest their campus president and his perceived inaction and used their leverage of their game against BYU to get some change instituted. Pinkel stood by his players, one of the first coaches in the country to do so.
35. Guy Morriss (Kentucky)
LSU. Gatorade bath. Premature.
36. Robbie Caldwell (Vanderbilt)
So yes, technically Robbie is an interim even if it was for the entire season but I had to shoehorn him in for his Media Days appearance. If you forgot, Bobby Johnson stepped down just days before the event and enter Coach Caldwell. Innocently, he began speaking of other jobs he had and how lucky he was to be coaching but, we got turkey talk and awkward laughter was born: "My first hourly paying job was on the turkey farm. "I don't know if I could tell you what my job was...I was on the inseminating crew. That's a fact. I worked my way to the top. Best job I ever had—got paid by the hour for the first time. That was about '68, '69. That's what we did every afternoon."
37. Mike Shula (Alabama)
Mike Shula wasn't his father, Don but he wasn't technically the worst but he'll always be tied to Tyrone Prothro and his vicious leg break in 2005.
38. David Cutcliffe (Ole Miss)
Very good play-caller, very fine coach. He recruited Eli Manning which directly led to the team's first 10-win season on over 30-years but the best piece of Cutcliffe's life in Oxford is his loyalty. His last season was his only losing season at Ole Miss (4-7) and when the athletic director asked him to fire assistants and change the program he refused. He was fired BUT the man dared to be loyal.
39. Dan Mullen (Florida)
I'll never understand the appeal of Dan Mullen and his "swag". He's every bit of a goober dad. It's got to be that he's so corny that it's appealing because he's everyone's pops. Has to be.
40. Jim Donnan (Georgia)
Jim Donnan only has one qualified season for this list, however he cannot be ranked nay lower because he once drove a steamroller onto a practice field before playing Mississippi State to make a point, "you're either going to be the steamroller or the pavement". They won the game 47-0.
41. Kevin Sumlin (Texas A&M)
Cool Guy McGee Kevin Sumlin was KING of September and then he was a pauper. He did allow Johnny Manziel to do whatever he wanted for a couple years, so that's kinda neat.
42. Woody Widenhofer (Vanderbilt)
Very good defensive mind, in fact led the SEC in total defense in his first season in 1998. However, not much else went his way. In five seasons, he won four SEC games. Two against South Carolina.
43. Joker Phillips (Kentucky)
No scandal, no funny quotes.
44. Matt Luke (Ole Miss)
Offensive line coaches getting the nod is still cool to me and the fact that he got the job after being Hugh Freeze's interim fella because he was so beloved and the team performed pretty well is pretty swell.
45. Tommy Tuberville (Auburn)
I'd be lying to you if I told you this has nothing to do with his Senatorial campaign and ultimate victory. I lost a lot of respect for that guy when he decided to move from Florida to Alabama to run for office and then never have an answer for any question ever. That's kind of how he was at Auburn (and yes Ole Miss but that was before 2000). He didn't have any of the answers, he just hired people to have answers and glad-handed. It worked.
46. Urban Meyer (Florida)
If you're a fan of Urban, you either root for Bowling Green/Utah/Florida/Ohio State/Jacksonville or you played for him.
47. Rich Brooks (Kentucky)
He got Kentucky pretty decent before he retired. That's all I got.
48. Bobby Johnson (Vanderbilt)
Bobby Johnson gave us Jay Cutler in the SEC and he gets love for that.
49. Ron Zook (Florida)
Ron Zook's biggest crime at Florida was taking over for Steve Spurrier we he went to the NFL and Zook wasn't Steve Spurrier, on or off the field.
50. Barry Odom (Missouri)
Hmmm, remind me?
51. Chad Morris (Arkansas)
Call me crazy, but there aren't many more forgettable coaches in the SEC than Chad. He just quietly came in, ran off his team and vanished.
52. Joe Moorhead (Mississippi State)
A "QB Whisperer" that lost his job because his whisperings led to passing offenses ranked below 100th in the nation and letting players have tutors take tests for them. Bye, Joe.
53. Kirby Smart (Georgia)
Kirby is lame. He's a Nick Saban knockoff, a stealer of Tuscloosa's ideas and intel, an owner of a middle-schooler's haircut and a child that apparently needs an adult male to hold his belt or he will run onto the field after every play.